MMI Preparatory School, Freeland, PA
What is MMI Preparatory School?

MMI Preparatory School is a small independent school in Northeastern Pennsylvania for students in grades six through 12.
Project and Goals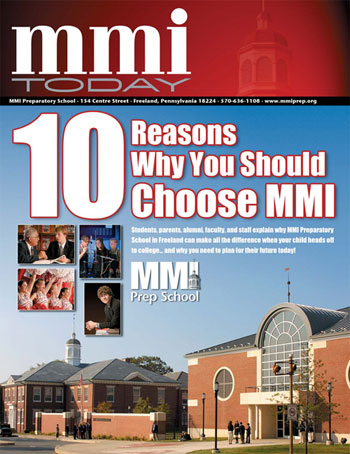 MMI Preparatory School has used the services – mainly public relations, photography and basic marketing and advertising – of Precision Design for about 15 years. As the economy slowed down recently, the school's enrollment began to slip. Rather than hunker down and ride it out, MMI officials approached Precision Design to create a new advertising campaign to boost enrollment.
Challenges
To convince parents to invest in a private school education as the nation slipped into an economic recession.

To create a compelling, effective message that would reach a wide range of families in an economically challenged area.

To design a campaign that would directly reach parents and school-aged children.

To overcome a strong, well-established community perception that MMI Preparatory School is too expensive, too challenging, and too elitist for the "average" student.
Solutions
Precision Design created a two-year plan to aggressively brand MMI Preparatory School as a viable, affordable alternative that provides a substantial return on investment.

For the first year, we designed a glossy, full-color, 32-page booklet that "opened the doors" to MMI, bringing parents and students inside the school and introducing them to the faculty, staff, facilities, curriculum, extracurricular activities – lifting the veil from the small private school and shattering the myth that the school is too stuffy for "average" students. The brochure, which included large photographs and staff profiles, was then inserted in the local newspaper to reach the largest audience possible.

For the second year of the campaign, we created a second printed piece, a large fold-out campus map that again showcased the school its curriculum and made it more accessible to the public. This full-color map was also inserted in the newspaper to compliment the 32-page book.

An important element of the campaign was highlighting the financial aid many students receive while at the school. Doing so was necessary to shatter the perception that the school was only for the wealthy. The key to the campaign was the use of actual families who were willing to share their financial situations with the public.

Complimenting the printed materials were a series of newspaper advertisements that continued to build on the messages of the printed pieces. The ads stressed that MMI is affordable and attainable.
Results
Enrollment increased by 35 percent over the two years of the campaign, far surpassing the client's goals.

Public perception of the school softened, from elitist to attainable. This led to more parental inquiries and better long-term prospects.